Rondo: Winger Pogba, a flock of seagulls, generous Haaland, and Spain's geezer crisis
• 8 min read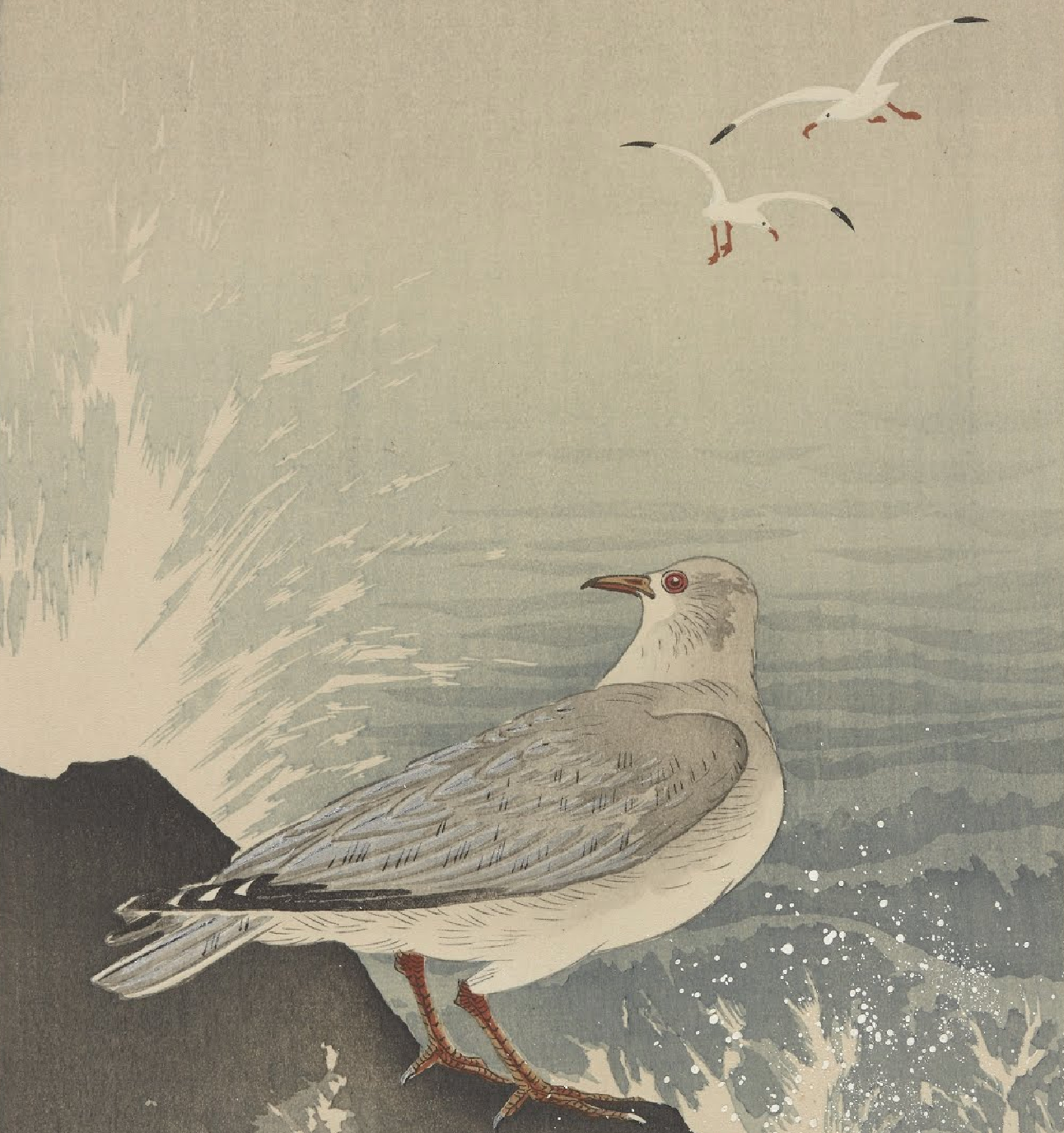 Welcome to space space space's second season! Damn, it feels weird to say that. We'll talk more soon about what's coming, but for now I've got a new Monday format I want to try out to cover more teams and stories, so let's dive right in.
Pogba takes wing
Not that long ago, there were only two opinions you were allowed to have about Paul Pogba. One was that he might be the most talented midfielder in the world, so it's disappointing how things have gone for him at Manchester United. This view was popular on the internet. The other was that he might be the most disappointing midfielder in the world, what with all his talent. This view was popular with angry British men on TV and Adrien Rabiot's mother.
But what if he's not a midfielder at all? Ole Gunnar Solskjær came into the job promising to build Manchester United around Pogba. Instead he built the team around Bruno Fernandes at the No. 10 and settled on a sturdy McFred midfield behind him. In 2021, that's left Pogba lining up more often than not at … left wing? Hm. Sure. Cue Jamie Carragher banging his head on his iPad.
Seems like Pogba might kind of like it there, though. This weekend he dropped four assists on Leeds, putting him 20% of the way to the Premier League season assist record all of 68 minutes into matchweek one. Granted, assists are a dumb stat (according to FBref he had 0.7 xA), but no Manchester United player had ever recorded four of this particular dumb stat in a single Premier League match. At Manchester United! The club with 177 more Premier League goals than anybody else! Not Ryan Giggs, not Wayne Rooney, not Bruno, not the dribbling winger version of Cristiano freaking Ronaldo — none of these dudes ever set up four goals in a game.
Paul Pogba, record-setting winger at the biggest club in England. We might need to come up with a third opinion about him.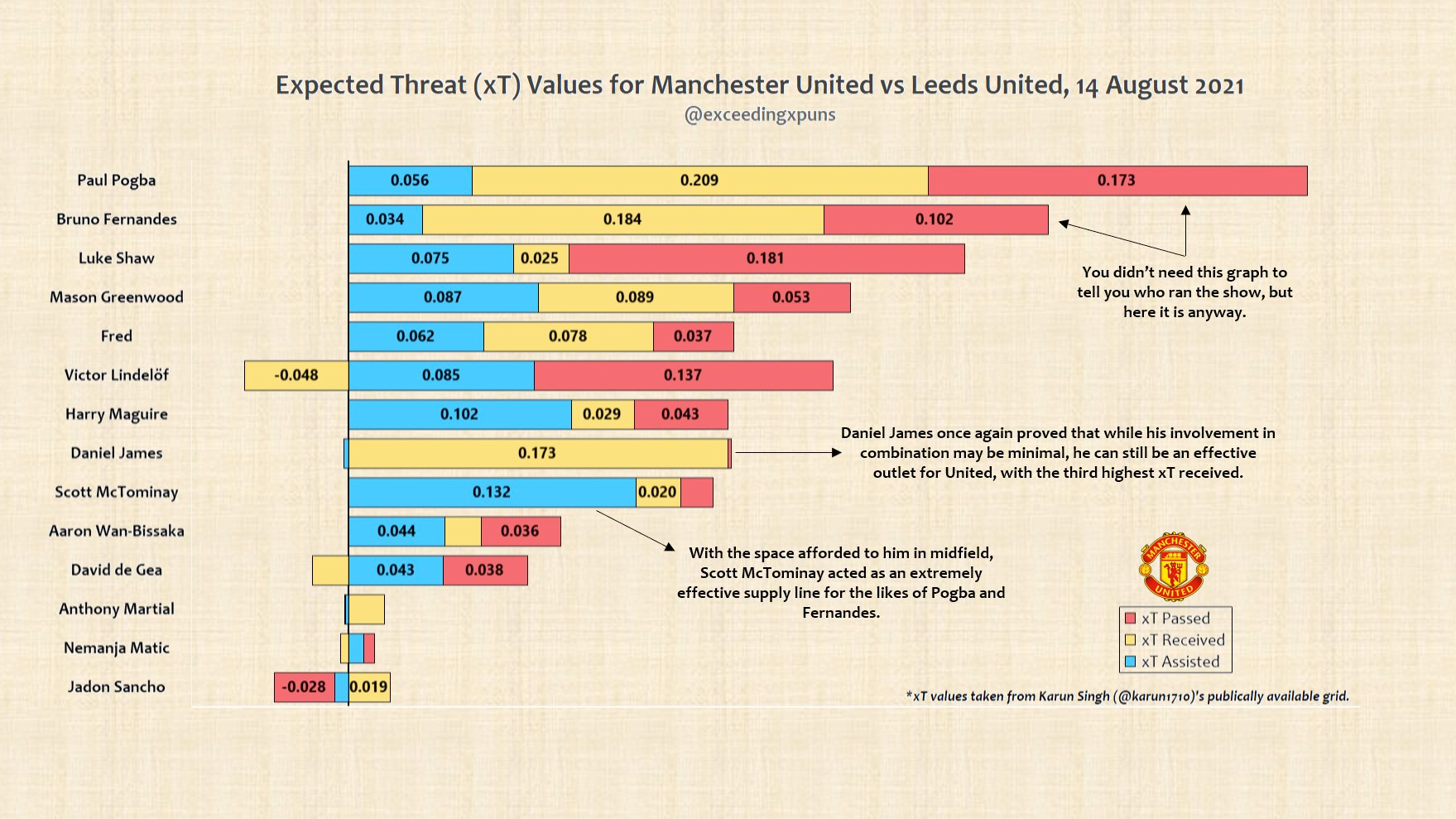 The main reason Pogba is so good as a winger is that he doesn't really pretend to be one. Instead of playing high and wide, Pogba drifts inside and deep, swapping places with Bruno or drifting back into Fred's space while Luke Shaw jetskis up the sideline. Most inverted wingers come inside to dribble and shoot, but Pogba does it to twirl on the ball with a grace that would embarrass Baryshnikov and carve open a passing lane that exists only in his imagination. Watching it is extremely — what's the opposite of disappointing? — oh yeah, fun.
Pogba's false-eleven shtick worked especially well against Leeds, since poor Luke Ayling had to decide when to stick with Marcelo Bielsa's man-marking scheme and when to stay home at right back and hand Pogba off to the defensive midfielder, Robin Koch. Meanwhile Koch had his own worries trying to stay tight on Bruno, who according to The Analyst attracted the second-most off-ball pressures in the Premier League last season. (FBref's StatsBomb pressures only log when defenders close down the guy on the ball, so I thought this new receiver-focused defensive metric was pretty neat.) Anyway, yeah, Pogba got open a lot. He did return the favor by forgetting about Ayling on Leeds' only goal, but four drop-dead gorgeous assists and one defensive lapse are pretty much the Paul Pogba Experience, and it's a tradeoff you'd be crazy not to take.
Alas, because nothing can ever be easy at post-Fergie United, Pogba laying claim to the left side of the attack solves one problem but creates another. We're talking about a team that already had Marcus Rashford and then went out and dropped a cool $100 million to buy out Jadon Sancho's contract at Dortmund, giving them two of the best left wingers — like, actual wingers — in England. Can these right-footers play on the right? Sure, but they score less and provide more over there. Which is also what Pogba does on the left. And Bruno in the middle. That version of Ole's 4-2-3-1 might have the best service in the world, but good luck to the lone center forward in the box trying to finish moves all on his own.
Okay, Jamie, you can go back to banging your head again.
Pep's flock of seagulls
Speaking of wings, have you heard that coaches are a bunch of Jonathan Franzen birdwatching weirdos? This story made the rounds the other day because of something Pep Guardiola said about geese, but it's bigger than any one manager. Soccer guys just fucking love birds for some reason.
The geese thing turns out to be the least interesting angle on the avian school of coaching. Popularized by Alex Ferguson and repeated by Guardiola, Emma Hayes, Nigel Adkins, and apparently anyone else who's ever coached a soccer team, the idea here is that Canada geese migrate 4,000 miles by flying in an orderly V where one goose leads and the others sort of draft off him, like NASCAR drivers but with more honking. When the lead goose gets tired, another replaces him, and okay yeah whatever you get the team building metaphor.
A much weirder Guardiola bird story comes to us from Jonathan Liew:
I get that when all you think about is tactics you can see soccer anywhere, but seagulls? Seagulls? Those assholes don't flock, they just tolerate each other in case one of them finds food the others can steal. Pep's Manchester City did play a 2-3-2-3 against Tottenham Hotspur, but they did it like gulls: not a synchronized press but a bunch of individuals wheeling and darting wherever they wanted, squawking at each other while Hueng-min Son snatched the ball and ran off.
My personal favorite soccer bird item is some GPS tracking research by Rui Marcelino that Ryan O'Hanlon wrote about for No Grass in the Clouds last year. You should go read it. There's a picture of a pigeon wearing a backpack. But the gist of the findings is that good defenders move like a flock of pigeons, with everyone taking movement cues from each other, while the best attacking teams move in more unpredictable ways. So there you go. Defend like a pigeon, attack like a seagull, and support your teammates like a migrating Canada goose.
Erling Haaland might be good at more than one thing now
A year ago, I spent a couple days watching a 20-year-old Erling Haaland and decided he was only really good at one thing yet:
He lives in transition. Erling Haaland knows exactly where he's going, and if you have to think about it for even a fraction of a second he's already beat you there. There's a reason seven of his nine successful transition targets have come in the 55th minute or later. He's got this one particular patch of grass to the left of the penalty spot where he likes to finish his moves on his favored left foot, and he's scary good there: four goal contributions on six trips this season.
Against Eintracht Frankfurt he scored twice from that left-side Haaland zone, because that's just what he does. The more impressive part was that he assisted three more (he only got credit for two, but again, assists are dumb). It's not like Haaland couldn't create last season — he had 5.4 expected assists to Robert Lewandowski's 3.6 — but considering the insane gravity he exerts on defenders any time he's in shooting range, a version of Erling Haaland who could consistently dribble at center backs and clip that filthy little nutmeg assist to Marco Reus on the first goal would be a very, very scary player.
The question now that Haaland is a bona fide superstar is how his new coach, Marco Rose, will shape Dortmund around their giant blond eighties ski movie villain. A year ago Haaland looked like the lovechild of his last two coaches, Jesse Marsch and Lucien Favre. Marsch's all-transitions-all-the-time style taught his striker to sprint to his shooting zone before defenders even realized they were supposed to be defending. Favre's pattern of holding possession deep and then attacking quickly created room for the long, late runs Haaland loves. We don't know yet exactly how Rose's Dortmund will play, but James McMahon's coach clustering project lumped Rose's Gladbach sides in the "Positive" style: "possession-heavy and attack-minded, but generally not quite so bloodthirsty when it comes to pressing the opposition."
Sounds fine and all, but I don't know — those five goals looked pretty bloodthirsty to me.
Spain's geezer crisis
Real Madrid chairman Florentino Pérez must love the recently departed Barcelona president Josep Bartomeu for so very many reasons, but somewhere down the list is this: while Barça's Messi meltdown is grabbing all the headlines, it might actually be Madrid who enters the season with a weaker squad. It's not that guys like Luka Modrić and Karim Benzema aren't amazing, obviously, they're just … so … old.
According to FBref, Madrid's minutes-weighted age in its first La Liga match was 29.3 years old. And that's not just a couple of antediluvian outliers weighing things down — nine out of eleven starters were 29 and up, including new summer arrivals David Alaba and, uh, Gareth Bale. These guys are older than the Clinton administration and "Got Milk?" commercials. I bet they sit around in the sauna remembering their favorite "Saved by the Bell" episodes. If Madrid doesn't find a way to get younger — and aside from Vinicius and Rodrygo, who came on as subs, there's not much to suggest they will — they'd finish as the fifth-oldest squad out of 466 the last five years.
This isn't just a Madrid problem. As Robbie Dunne wrote about for his Hay Liga newsletter, Spanish squads are by far the oldest out of the big leagues, with an age curve slouching distinctively toward the wrong side of soccer players' prime:
Goes without saying that pandemic economics are playing a major part here. Madrid and Barcelona have spent years guzzling up an enormous share of La Liga's TV revenues, so the disappearance of gate receipts hit smaller Spanish clubs especially hard. League president Javier Tebas's plan is to mortgage about 11% of future TV revenues for an emergency injection of private equity cash now, but the big clubs have been putting up a fight. While that shakes out, transfer fees are a virtual no-go; only a single Spanish club has paid more than €15 million for a player this summer (Atlético Madrid, €35 million for Rodrigo de Paul).
If La Liga's going to get younger, it may have to come from the academies. That ought to be doable. Spain and France (where Ligue 1 is suffering through its own financial crisis) contributed by far the most players to the top five leagues last season:
Luckily for Real Madrid, Castilla's been especially productive lately. Given Bale and Eden Hazard's injury histories, Pérez might want to keep his academy director on speed dial. Here's to a bumper crop of Iberian wonderkids this season. ❧
Thanks for reading space space space! Please consider becoming a paid subscriber to get more letters and support the project.
Image: Ohara Koson, Seagulls
Sign up for space space space
You'll get free weekly letters about soccer (and never any spam). If you want to get more letters and read the full archive, you can become a paid subscriber any time.