Rondo: Lukaku, a striker swap, Nagelsmann's fee, and MLS at the break
• 9 min read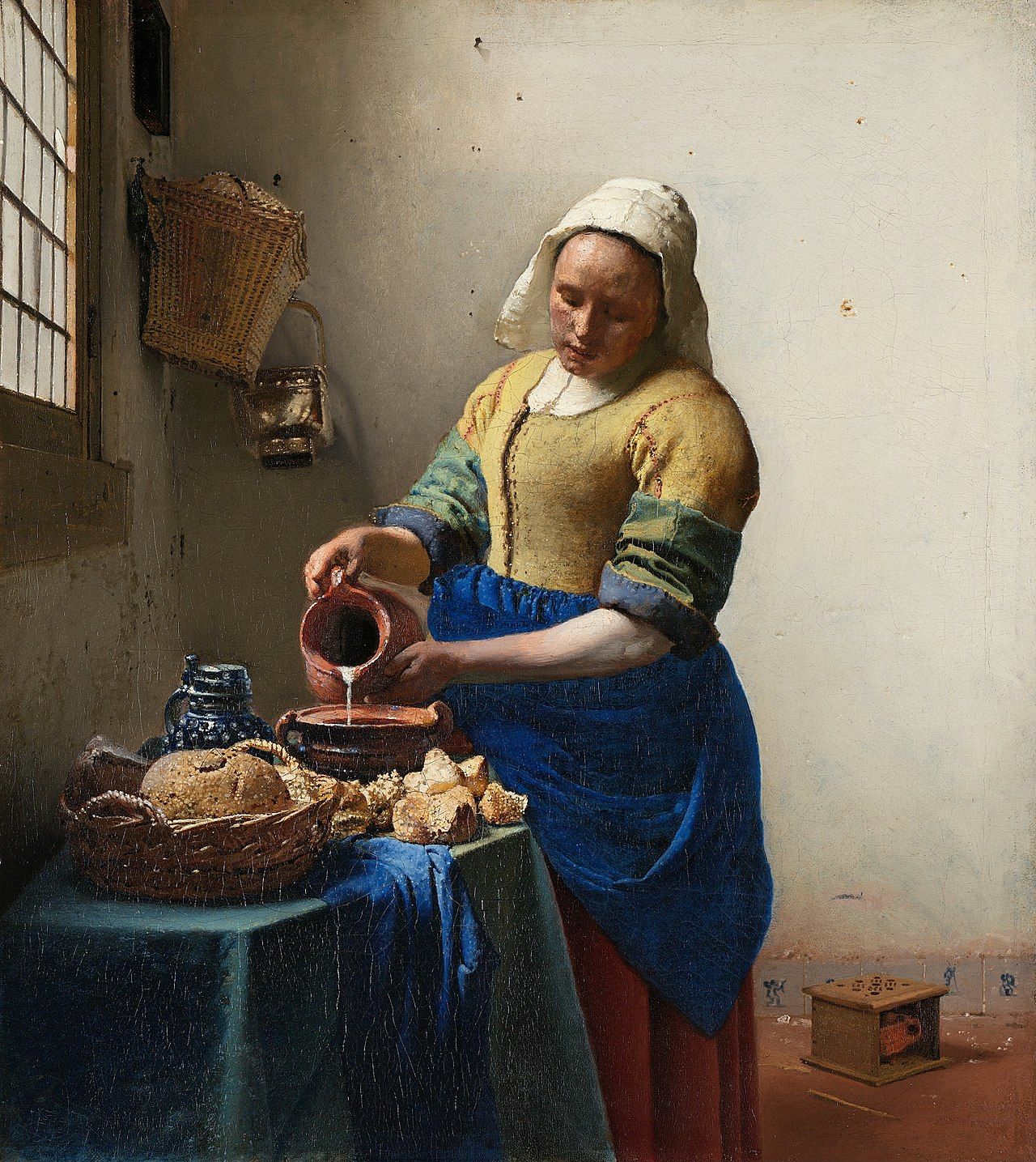 Welcome back to week two of this new Rondo thing. These Monday (well, Tuesday — sorry, I was travelling) letters are totally un-member-walled, so feel free to share them with whoever you think might like them. Let's talk about what strikers really do, what transfer fees really mean, and who's really good and bad in MLS this season, yeah?
Oh shit, Chelsea's got a complete center forward
What does a striker do? If you answered "score goals" you're not entirely wrong, unless we're talking about Timo Werner, but we both know there's more to the job than that.
Take the buildup. You could say there are three basic ways that strikers help their team get the ball forward (you could also say there are four or six or seventeen, but let's just roll with three for now):
Holding: Striker posts up back to goal to receive direct passes and lay the ball off to oncoming teammates (or turn the center back himself).
Linking: Striker drops into midfield to combine and/or face play.
Stretching: Striker makes runs behind the defense or out to the sideline to drag center backs around.
New Chelsea striker Romelu Lukaku is very good at all three of these, even better than old Chelsea striker Romelu Lukaku. But the club already had the second two covered. Werner's got pace for days, and his defense-dragging runs made room between the lines last season for Mason Mount and Kai Havertz to link to their hearts' content. What Roman Abramović bought this summer for the GDP of a small country was good old-fashioned hold-up play. He got a striker who can make former England defenders rethink their whole career with one forearm to the chest:
"I learned to play more with my back to goal," Lukaku said of his study abroad stint in Milan. "We always had a lot of possession. Most of the time you were back to goal and everything was going through me. I remember having a conversation with Conte about this and he told me if I wasn't good at that I wouldn't play. That was an eye-opener."
In his first game back, Lukaku showed Chelsea what they'd been missing. The defending champions of Europe could always possess you to death or beat you on the break, but last year they didn't have one of those dancing Boston Dynamics robots at the tip of the attack to make breaking lines look this easy:
When the dust settled, Lukaku had received 22 progressive passes (by my preferred 25% definition) and Chelsea had racked up 2.9 expected goals, their joint-highest figure under Tuchel. I know, I know, it's Arsenal, but we could be looking at a very different attack at Stamford Bridge this season.
A quick spin on the striker merry-go-round
When Chelsea announced Lukaku on August 12, it set off a three-way game of musical strikers. Within a week, Inter Milan had signed Edin Džeko to fill Lukaku's spot while Džeko's old club, Roma, scooped up Chelsea castoff Tammy Abraham to close the loop.
What's fun about this little swap deal, aside from the fact that trades are objectively Good Content and soccer should do more of them, is that each club got a different style of center forward. Remember those three kinds of buildup striker play? Lukaku holds, Džeko links, and Tammy stretches: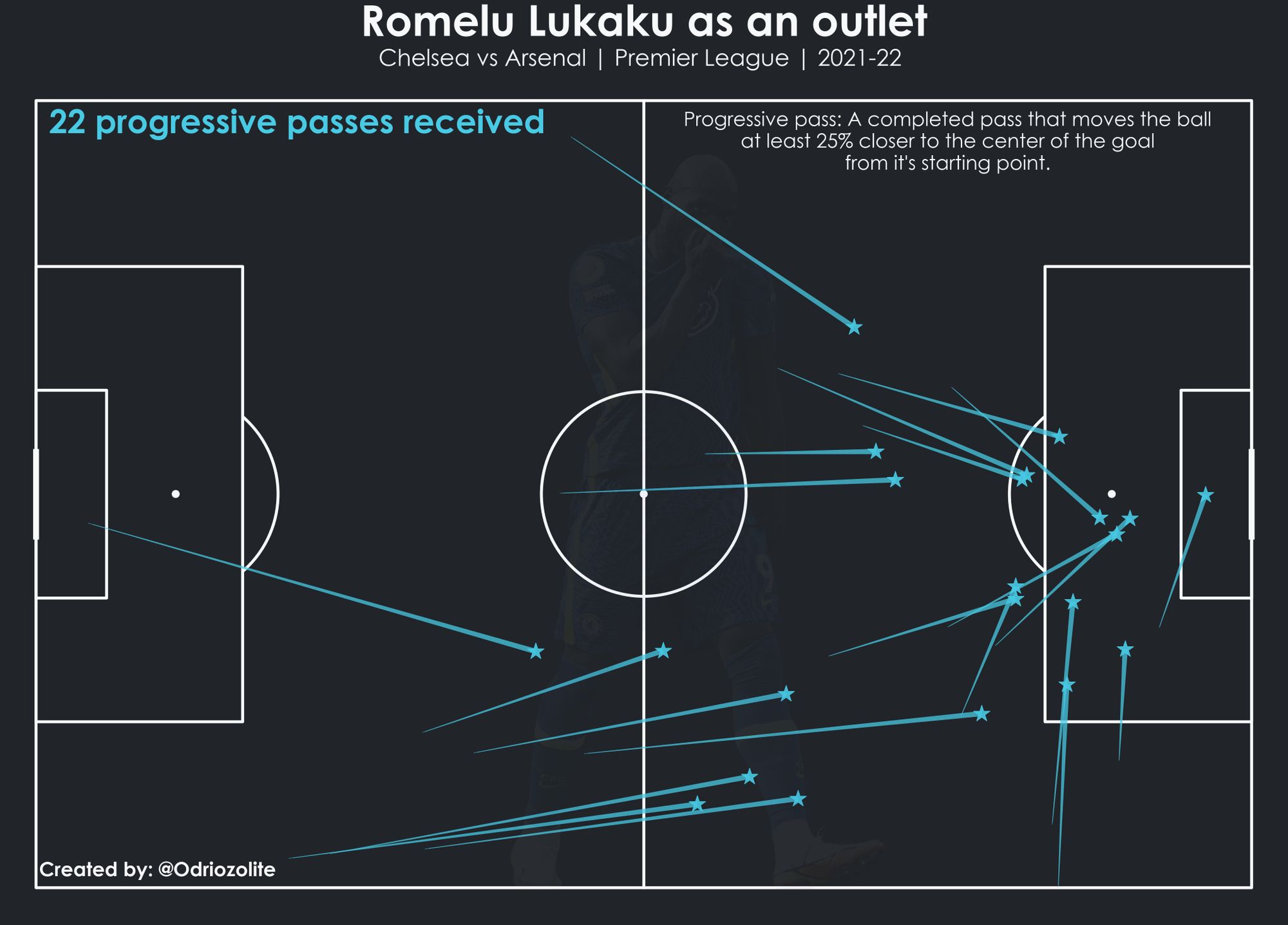 At 35, Džeko's not going to give you a lot of fast or physical movement, but he connects play like a champ. In Inter's 4-0 win over Genoa he liked to lure a center back forward and keep dropping until the defender gave up, freeing Džeko to help out his midfield. Goal number two was a good example: Džeko shakes loose between the lines and drops the ball off to fellow summer arrival Hakan Çalhanoğlu for an open look at the top of the box. That one-two punch ought to be even more fun next week when Lautaro Martínez rejoins Inter's 3-5-2 striker pair to sprint into the holes Džeko pulls open.
As for Abraham, he had a couple of decent line-stretching runs in his Serie A debut. He's the least versatile of the three strikers in the swap, which may be why Tuchel banished him to the far end of the bench, but baby you're on a José Mourinho team now — 14 touches in 68 minutes will do just fine. Mou's Roma had a man advantage for almost half the game and they still finished with 42% possession.
The reason they'd gone up a man in the first place was thanks to Tammy, who made a little dart behind the lines for a longball and got rocked by Fiorentina's Bartłomiej Drągowski (who could've guessed a keeper who picked shirt number 69 would make impulsive decisions?). He had another good line-leading run to assist Roma's second goal. If a kid who put up some of the best xG in the Premier League can add buildup play to his game, maybe he'll be the next ex Chelsea comes crawling back to one day.
No, Nagelsmann's not the most expensive coach
After going winless in his first five (mostly preseason) games, Julian Nagelsmann's Bayern beat Borussia Dortmund in the German supercup to make him one-for-one on trophies. So was the most expensive coach ever worth the money after all?
You're going to hear this discourse a lot this season. It's dumb. Don't fall for it. Sure, it's fun to think about how much value coaches add and what a really good one might be worth, but a transfer fee is the wrong way to put a number on it. Here's Nagelsmann himself explaining the problem:
"You name this number [his reported €25 million transfer fee]. And apart from the actual amount, this is a milkmaid bill anyway. A coach doesn't just cost a transfer fee, there are also salaries, bonuses, etc. And for example, I'm definitely not the most expensive coach Bayern have ever had. The initial investment may have been a bit bigger, but the rest certainly wasn't."
Listen, I have no idea what a milkmaid bill is either, but the man's got a point. Soccer's fascination with transfer fees is a problem. It's a problem because clubs and agents distort the number in the press, but mostly it's a problem because the number doesn't mean what you think it means.
When a club wants to hire a player or coach who's offering his current employer good value for his salary, the would-be buyers may have to offer some money to get the other club to terminate the existing contract. That's all a transfer fee is. A transfer fee is not what that player or coach is "worth." It doesn't even represent how much money the buying club paid to acquire him. Because once you pay to break a guy's current contract, you still have to give him a new deal, and the new contract has to be rich enough to make the player or coach want to leave his old job in the first place. The salary and bonuses in the new contract are the dark matter of the transfer world, often making up the bulk of the money changing hands but invisible to the naked eye when you're scrolling through Fabrizio tweets.
That's what Nagelsmann means when he says he's not Bayern's most expensive coach. We're talking about a club that recently employed Pep Guardiola, who's supposedly earning $25 million a year at Man City. If Bayern offered Nagelsmann a more typical high-end coach deal at $50 million over five years and Venmoed Ralf Rangnick $25 million to let him walk now, they're still spending just $15 million a year for their coach, a lot less than they probably paid Pep.
Now, if PSG decides Nagelsmann is the new Pep and wants to hire him away before his hypothetical five-year deal is up, they'll have to pay something to make up for the $15-million-per-year surplus value Bayern's getting for however long is left on the contract. But if Nagelsmann turns out to be just another pretty good coach and Bayern's defense continues to suck, he'll have no transfer value because he's already earning what his contribution is worth.
Anyway, yeah, next time you're wondering why all these superclubs trying to unload elite players worth hundreds of millions in "market value" can't find a buyer, just remember it's because that term doesn't mean anything.
And now, your MLS All-Star break
It's All-Star week in MLS, which is as good an excuse as any to check in on the fabulous chaos of American soccer. We're a little more than halfway through the 34-game season, but most teams have already played nearly as many games as they did during last year's Covid-shortened campaign, and as usual nobody's who we thought they were:
This chart shows how teams' performance has changed since last year according to American Soccer Analysis's goals added metric. What it does not show is how they're doing on the table — so yeah, sorry everybody, but Bob Bradley's LAFC is still good at soccer. With a healthy Carlos Vela, a significantly improved defense, and a newly flexible formation, they might actually be one of the top three teams in the league despite sitting below the playoff line.
You know who's not good at soccer? Last year's MLS Cup winner and overwhelming preseason favorite Columbus Crew, who've not only played down to last season's mediocre underlying numbers, they've sunk to the bottom of the league. Maybe it's the fact that supposed "best attacking player in MLS" Lucas Zelarayan can't stop turning the ball over. Maybe it's injuries. But shoutout FiveThirtyEight's model, which had Columbus just 10th back in April when pundits were ready to crown them repeat champs.
Other big movers:
Re: how the mighty have fallen, perennial contenders Toronto are also bottom-feeders now. Pick your theory: coaching turnover, unavailable strikers, lousy center backs, new star Yeferson Soteldo slowing down the offense. Safe to say this isn't what they expected from the league's second-highest wage bill.
Even FiveThirtyEight didn't see D.C.'s incredible turnaround coming. Their stellar g+ hasn't quite translated into results yet, but new coach Hernán Losada's pressing-and-verticality absolutism is a tried and true way to outperform your budget in MLS.
Minnesota and Nashville, two not especially glamorous clubs, have fought their way into the glamorous good attack/good defense quadrant. I'll be honest, I've watched neither of these teams and have no idea how they're doing it (maybe it's just the power of Oasis?), but great job fellas, keep it up.
San Jose, Portland, and Real Salt Lake quit playing defense. Houston quit attacking. Cincinnati spent a lot of money to be bad in a different way. Miami spent way more money than they were allowed to, played bad soccer anyway, and got ratted out by their own owner. I love this league.
Bookies favor current points leaders New England and Seattle to win this year's MLS Cup, which makes sense given the value of home advantage in single-leg playoffs. But the Revs' league-leading attack keeps getting bailed out by the best shotstopper in America and the Sounders have gotten softer at both ends. If those two come up short, keep an eye on New York City, who've got the best numbers and the best striker in MLS, a 22-year-old Argentine stud named Valentín Castellanos.
If there's a lesson in this whole goat rodeo, it's that it's really damn hard to build an MLS roster that's a surefire winner. Scouting resources are scarce (unless you happen to be part of CFG), so most clubs' transfer hit rate isn't great. Cash of any kind can be hard to come by from a lot of owners, who are happy to scrimp on the roster and wait for that TV check to hit knowing they're safe from relegation. Even for clubs that give a shit, the league's roster rules make it easy to buy stars but hard to buy depth, so a couple key injuries can tank all but the best squads. Might be worth studying MLS sporting directors' roster Tetris if you're oh, say, a European club who's recently had to get familiar with your own league's salary cap.
Okay, cool, I feel ready for the All-Star game now. We doing Goalie Wars this year or what? ❧
Thanks for reading space space space! Please consider becoming a paid subscriber to get more letters and support the project.
Image: Johannes Vermeer, The Milkmaid
Sign up for space space space
You'll get free weekly letters about soccer (and never any spam). If you want to get more letters and read the full archive, you can become a paid subscriber any time.