Pep In Transition
• 7 min read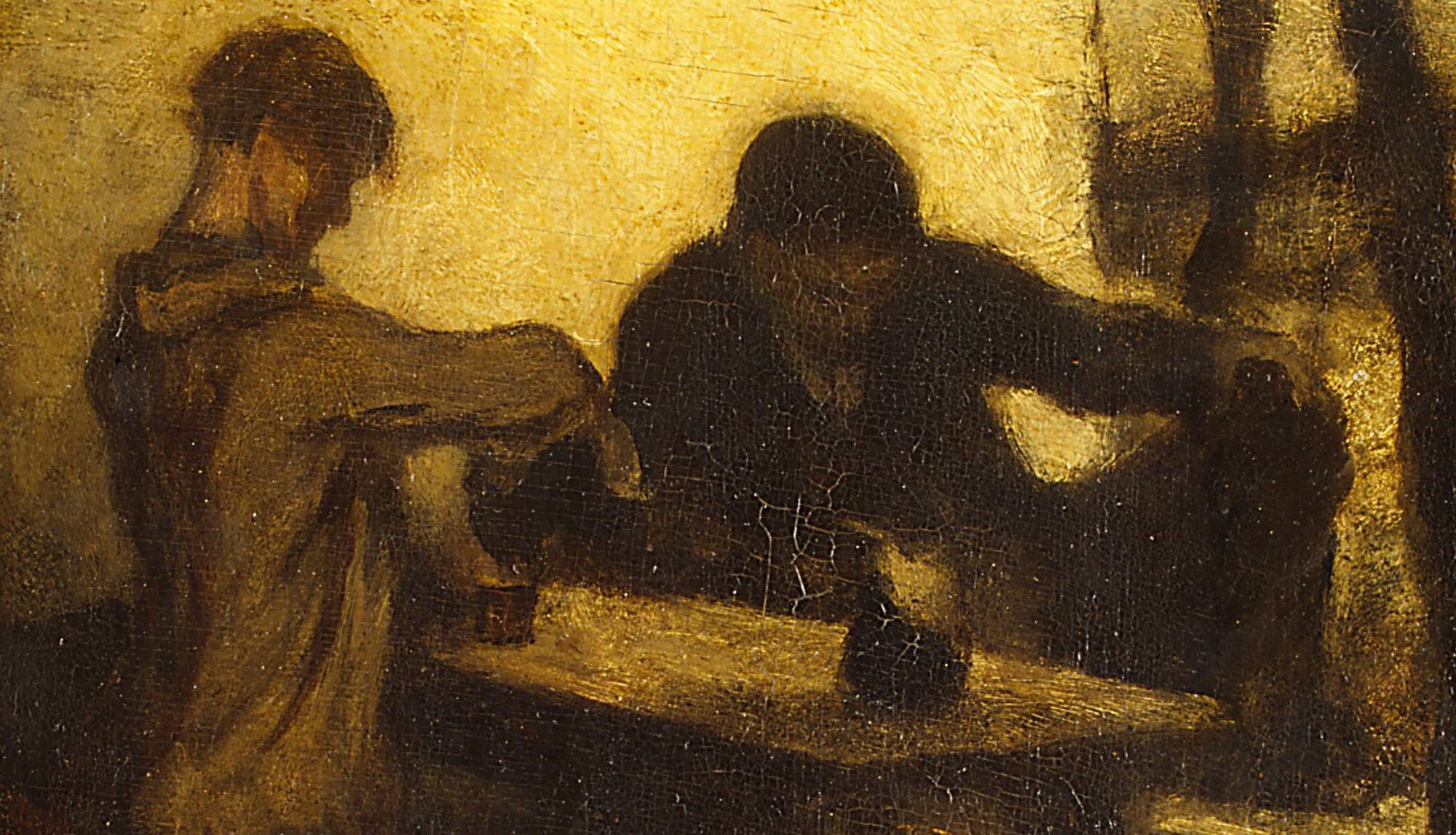 How City's strikerless look against Madrid echoed an old Clásico and reminded us it's never just been about possession.
Welcome to the very first space space space, a letter about making soccer make sense. If you're into this project and haven't signed up yet, please type your email in here to get more stuff about the Champions League delivered to your inbox.
"That is the truth about Pep the people don't know," said Domènec Torrent, Guardiola's friend and former second-in-command at Manchester City. He looked up from the tactics board balanced between wine glasses in a Greenwich Village bar and glared at me and my friends. "Okay, tiki-taka?" He snorted. "No tiki-taka. The first idea of Pep when you recover the ball is to play with this player, not pass the ball again."
He pointed not to the magnet doing Kevin de Bruyne duty in midfield, not back to safety at the feet of City's ball-playing keeper, Ederson, but over two lines of defense to the tiny blue circle between the center backs: the striker.
"If you can play with this player and set the ball, that is the first option."
Before anyone gets the wrong idea about what space space space is, full disclosure: I don't usually hang out with people who've helped coach three of the greatest European sides of the last decade. But last fall, after he'd quit a short stint at the New York club where my friends and I covered him for a site called The Outfield, and before his unveiling last week as the new manager of Flamengo, Torrent had a lot on his mind—a lot of scores to settle. And the oldest grudge in his book was against anyone who accused Guardiola of loving possession too much for a quick strike.
"Pep uses transition all the time. Fifty percent of the goals in Man City is about the transition when they recover the ball," he said. "It's about that. You have to use that."
I thought about that conversation in February as I watched City twist itself into a bizarre shape at the Bernabéu. Even for a manager famous for overthinking big games, Guardiola's tactics in the first leg of a marquee Champions League tie against Real Madrid were hilariously rococo, like that old kung fu movie gag where one guy does a whole TikTok dance routine with nunchucks and then the other guy just punches him out.
For starters, Pep didn't have a striker. Or he had two strikers. It was hard to say. On the teamsheet it looked obvious that Gabriel Jesus would take Sergio Agüero's place at center forward, but instead he peeled off to the left wing at the start of the game and left de Bruyne and Bernardo Silva, City's so-called "free eights," as a pair of very free nines at the top of a caved-in 4-2-4. As Guardiola explained after the game, "We played without a proper striker because of the way they defend—they are so aggressive through the middle and when that happens you have to make the pitch wide. We wanted to give diagonals as much as possible."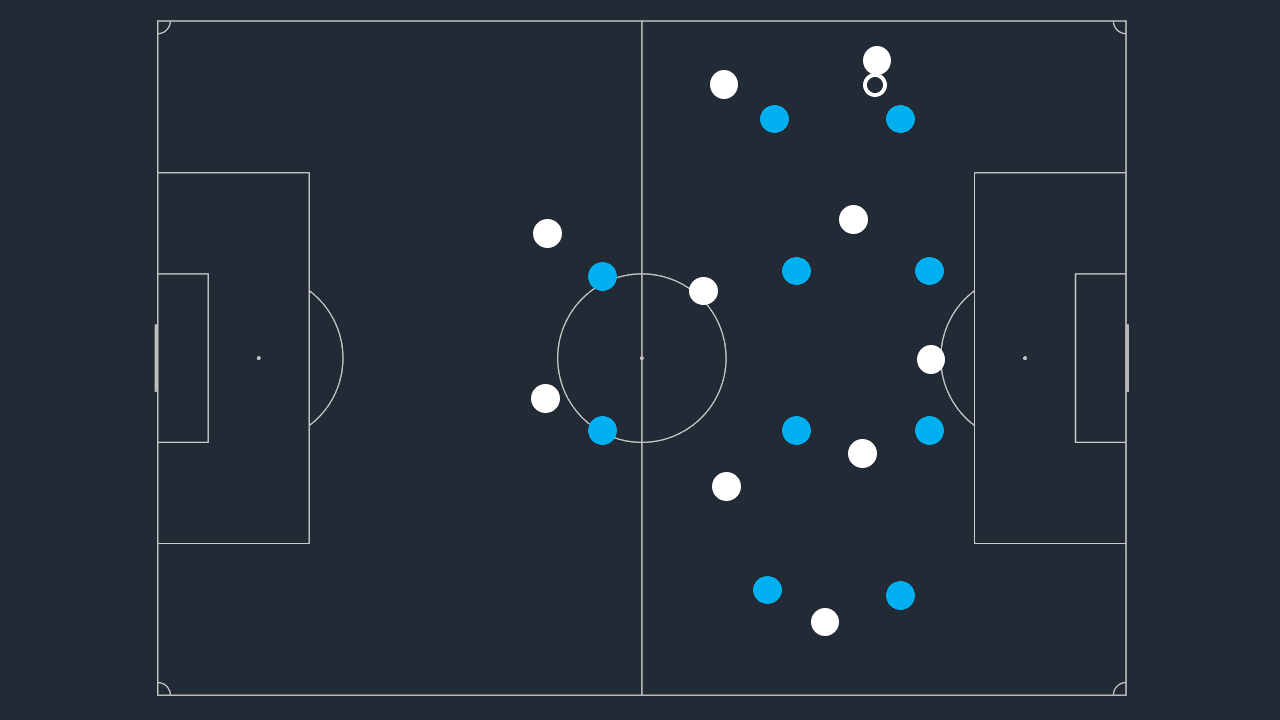 It looked like a classic case of a manager snorting a huge pile of his own press clippings and rolling up to the Wednesday office happy hour with his shirt ripped open, ready to fuckin' party. Except a funny thing happened: City didn't get punched out. The plan sorta kinda worked. They actually did have a striker during the last phase of their attack, when Jesus would take advantage of any sustained possession in Madrid's half to saunter back over to the middle and leave the left wing to his fullback, Benjamin Mendy, while de Bruyne and Bernardo Silva returned to their familiar roles in the halfspaces. But sustained possession wasn't the goal. The goal was: Pep uses transition all the time.
When Guardiola called Madrid "aggressive through the middle," he was talking about Sergio Ramos and Raphaël Varane, a pair of heat-seeking missiles disguised as center backs. If either of City's strikers-but-not-really dropped to receive in a blindspot beside Madrid's defensive midfielder, Ramos or Varane would leave the line and chase him upfield to make sure he didn't feel too lonely. That would've made life difficult for a center forward trying to do the kind of linking work Torrent called "the first option," where he'd drop just enough to lay a forward pass off to a midfielder and sprint upfield for a quick up-back-go.
But that aggression meant the center backs could be baited, and Bernardo and de Bruyne's usefulness in midfield allowed them to keep dancing further and further out of reach. And because City's willingness to fold into a low block often brought Ramos and Varane up around the halfway line in posssession, there was an awful lot of space behind up for grabs in transition. The most effective way City got into that space wasn't to "give diagonals," exactly, but it did involve playing diagonally.
Here's how it worked: City would defend long enough and deep enough that Madrid's nominal right winger, Isco, would tuck back into his true home in attacking midfield in search of the ball. That was Dani Carvajal's cue to push forward from right back and fill out Madrid's front line. And though Jesus did admirable work tracking back to help defend Carvajal and Isco, his real job was to make Carvajal nervous by cheating toward the empty flank behind him. Any time City won a ball and found de Bruyne in midfield in transition—and you should always, always try to find Kevin de Bruyne in midfield in transition—the next look was through the gap between Varane and Carvajal, to Jesus streaking from the wing toward Madrid's wide open box.
Dome Torrent would have recognized this style of transition play. It wasn't that first ball to a central striker that he'd described, but it definitely wasn't tiki-taka either. It was an echo of the very first time Guardiola used Messi as a false nine, in a May 2009 Clásico at the same stadium. Before the game Pep came to Torrent, a video analyst at the time, with a specific request: "Find me footage of their center backs. I want to see what they do." When he saw them being aggressive through the middle, he decided to make the pitch wide. As Torrent told The Coaches' Voice, "I couldn't believe it. The most important game in Pep's history so far, away at the Bernabéu, and he was going to have his top goalscorer, Samuel Eto'o, out wide—and, for the first time, Leo as a striker." Barça won 6-2 and Messi earned himself a new position.
City's first leg put de Bruyne (and to a lesser extent Bernardo) in the Messi role, dragging Madrid's center backs into the middle so City could play to the wide goalscorers in transition. The tactics writer Michael Cox complained after the game that Pep could have achieved the same effect with just one false nine and Raheem Sterling in the target left wing spot, and maybe that's true. But the difference in the game wasn't the particulars of the plan, but rather that the plan was to play in transition at all. No tiki-taka. Don't pass the ball again. Play with this player.
Even against Real Madrid, even away, Manchester City could have seen more than 51% of the ball if they'd wanted (and in fact they often looked better when they slowed the game down). The cost would have come in space. This season, partly because they've led less than they're used to and opponents haven't had to come out of their shell as much, City's transition game has suffered. Only 5% of their expected goals have come in a fast pattern of play, half of last season's figure. A full 9% of their opponents' xG is on fast breaks; two years ago, during the 100-point campaign, it was 3%. Playing slow while the other team plays fast isn't necessarily a bad thing if it gives you more control, but it's exactly what Zinedine Zidane would have liked, as it felt like every Madrid attack was aimed at the speedy winger Vinicius Júnior on the left. City's tempo denied it. This week, up a goal in the return leg, it'll be even more important for Guardiola's team to defend compactly and attack quickly in transition.
Our night at the Manhattan wine bar, some distance into the second bottle of Rioja, I mentioned to Torrent that Barcelona had played badly that week, as they've been doing a lot of weeks lately. His eyebrows shot up. "But what is play better?" he said. "Is not all the time pass the ball. Is control all the time what happen in the pitch." The bar had just enough light to read the earnestness on his face, the urgency with which he wanted—needed—to correct the record about the legacy he'd helped Guardiola build.
"Sometimes you need to control the ball. Sometimes you need to play quickly," Torrent said. "That, for me, is play well." ❧
If you haven't yet, I hope you'll sign up for space space space. It's free, it's easy, and it'll send future letters to your email so I won't have to flog them on Twitter all the time. Thanks for reading!
Further reading:
Image: Honoré Daumier, The Drinkers
Sign up for space space space
The full archive is now free for all members.